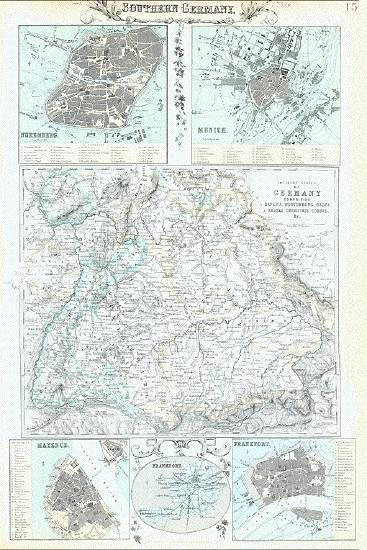 "Southern Germany"
Southern States of Germany comprising Bavaria, Wurtemberg, Baden, Nassau, Darmstadt, Coburg.
Map has several city plans: Nuremberg Nuernberg), Munich (Muenchen), Mayence (Mainz), State of Frankfort (on the Main) and Frankfort (Frankfurt am Main)
Type of print: Line lithograph printed in several colors (mostly green and beige)
Engraver. John Bartholomew jr. (1831-1893) an Edinburgh based cartographer. He was known for the finest of cartographical work done in Great Britain.
Published: By Fullarton & Co. London, Edinburgh and Dablin ca. 1870
Condition: A few repaired margin tears. Upper margin narrow. Reverse side has no print
Page size: 47 x 31 cm (ca. 18.5 X 12.2")
$ 120.00
ORDER NR. DEUTSCHLAND238823